Map Unavailable
Date/Time
Date(s) - 02/24/2020
12:00 pm - 1:00 pm
Location
Stonewall Conference Room
Challenge & Promise of Topical, Behaviorally-Congruent HIV Prevention Products

RSVP at https://www.thirdcoastcfar.org/events/craig-hendrix-md/ (in person or remote)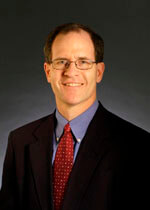 Craig Hendrix, MD 
Director, Division of Clinical Pharmacology Professor of Medicine, Pharmacology, Molecular Sciences Johns Hopkins University School of Medicine
Monday, February 24, 2020
Noon – 1 p.m. CT
Stonewall Conference Room
625 N Michigan Ave
Chicago, IL 60611
Craig Hendrix, MD is the Wellcome Professor and Director, Division of Clinical Pharmacology, at Johns Hopkins University School of Medicine. He trained in infectious diseases and clinical pharmacology at Hopkins before 10 years as an Air Force physician and 20 years at Johns Hopkins. Dr. Hendrix's primary research focus is clinical pharmacology of HIV pre-exposure prophylaxis. He's involved as Principal Investigator of numerous early phase pre-exposure prophylaxis clinical studies at Hopkins. He also serves as principal pharmacologist for the Microbicide Trials Network and HIV Prevention Trials Network. He has published over 250 scientific papers.
He greatly enjoys teaching and mentoring trainees at all levels and co-directs the Johns Hopkins T32 Clinical Pharmacology Training Program. He has received awards for teaching and mentoring from Johns Hopkins.
He has also served on a National Academy of Medicine Advisory Panel, the CDC Board of Scientific Counselors, the American Board of Clinical Pharmacology, and several FDA Advisory Committees. He has received awards for scientific achievement from the PhRMA Foundation, the American College of Clinical Pharmacology, the American Society of Clinical Pharmacology and Therapeutics, and the FDA.